Springs & wildlife surprises along the Wacissa River in Tallahassee
By Doug Alderson
The Tallahassee area is surrounded by alluring rivers, so it's challenging to pick a favorite. It might be a spring-fed waterway with caves such as the Chipola near Marianna, or the wild Ochlockonee flowing to the Gulf, or maybe the mighty Apalachicola with its high bluffs and numerous sandbars. There's also the upper Sopchoppy, with its broad sandbars, high banks and artistically twisted cypress roots and knees. The St. Marks is lovely any time of the year, the Wakulla boasts manatees and for a thrill of mild whitewater, and you can't beat the Aucilla.
When I recently had an opportunity to join professional guide Harry Smith of Harry Smith Outdoors to kayak the upper Wacissa River, about 15 miles east of Tallahassee, I didn't hesitate. The Wacissa is spring-fed and rich in wildlife. The upper section can be explored without the need of a shuttle and is a perfect waterway for a half-day trip.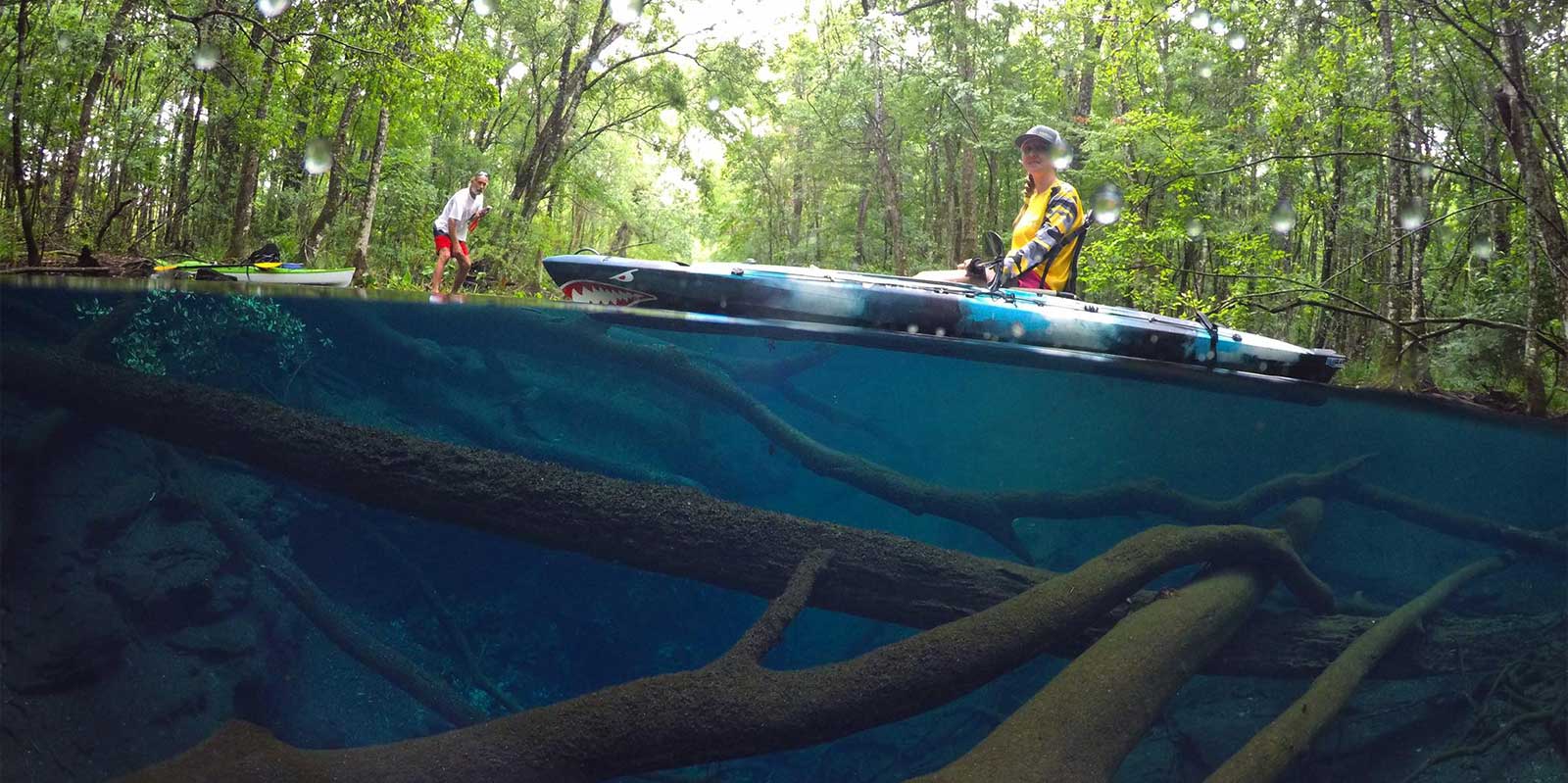 Launching into the Wacissa
On the drive over, Harry primed me for what was to come: "Even though it can get busy on weekends, it still has a wild feel. You not only see wildlife, but you see them interacting in their natural habitats. You never know what you're going to come across."
As the sun broke over the treetops, we launched at a county park along a small spring-run. The morning air was just cool enough to feel tingly in a short-sleeved shirt; my life jacket added a welcome layer of insulation. A gentle breeze seemed to whisper the river's long human history. Native Americans plied these waters for 14,000 years or more, establishing several villages and mounds along the shores long since lost to time. Now, the river is almost totally uninhabited by humans. Most of the land is owned and preserved by the State of Florida.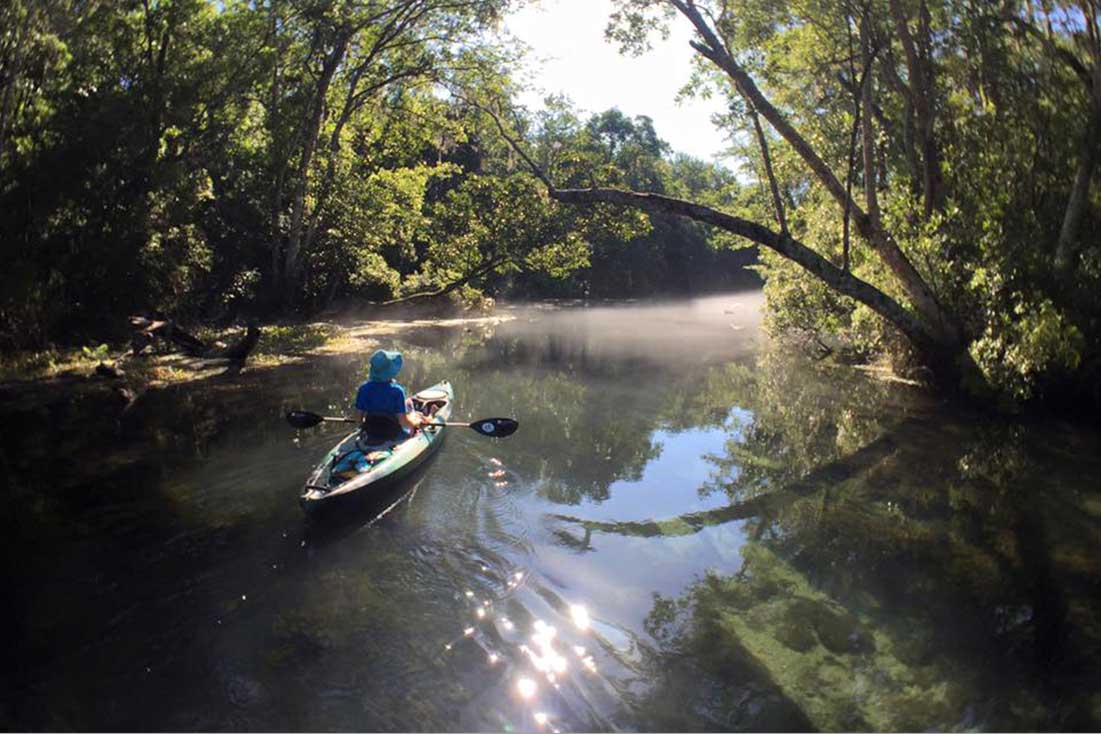 We dipped our paddles into the broad river, occasionally leaning back to gaze up toward the sky. The Wacissa is wide and marshy in this upper section, and a dozen springs feed it from all directions. Eelgrass and hydrilla swirled in the current while wild rice and bulrush stood tall along the banks. Cypress, gum, swamp maple, cabbage palm and other exotic trees lined the shores.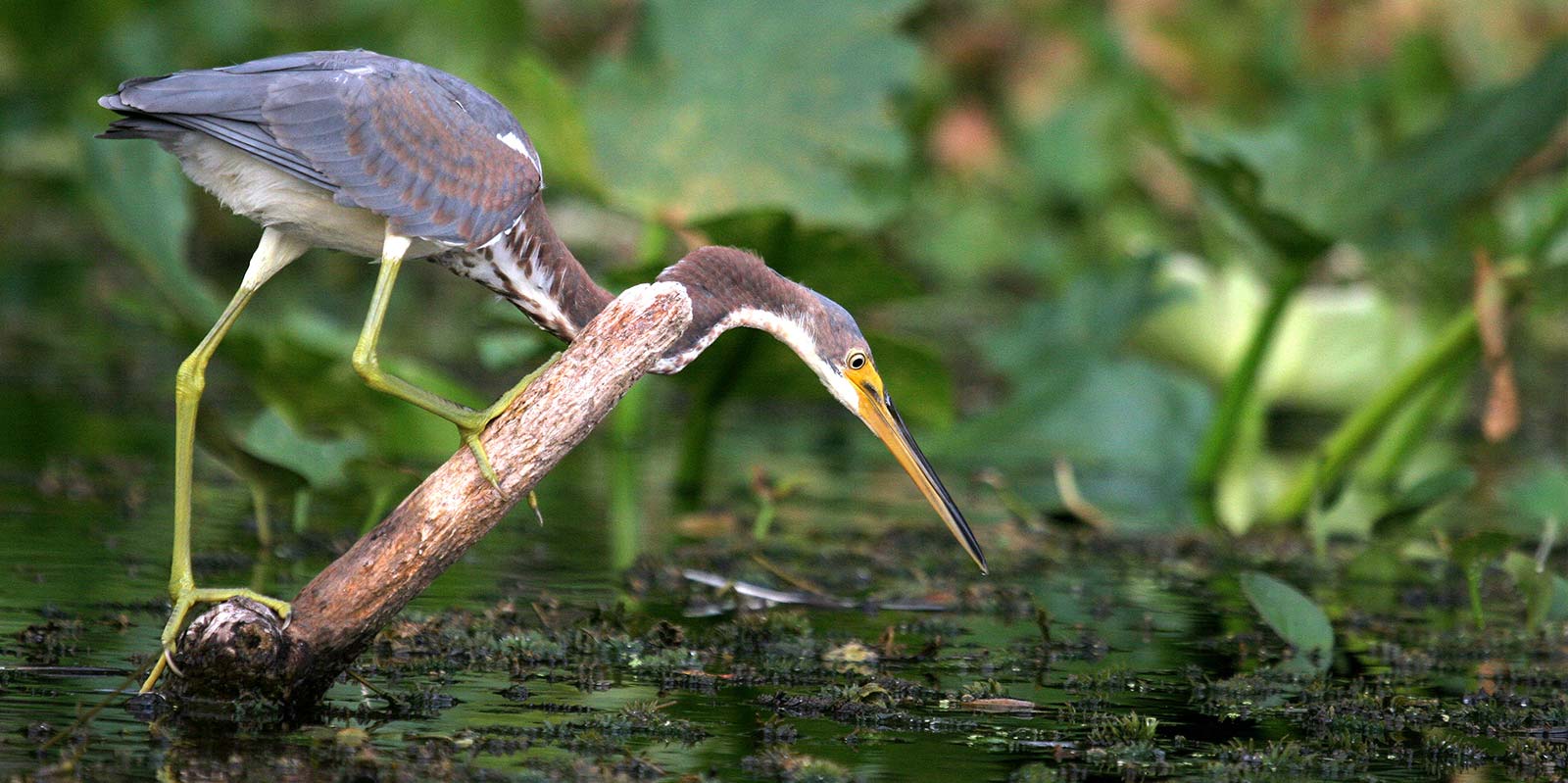 Wild encounters
The Wacissa is a haven for wading birds and we spotted several species during the paddle tour—great egrets, snowy egrets, tri-colored herons, as well as big and little blue herons. Croaking bullfrogs echoed across the water while a pileated woodpecker rapped on an ancient cypress tree. Schools of silvery mullet shot past. Harry, having younger eyes at age 34, spotted our first alligator.
"There he is," he said. "About a four-footer. See him in the grass?"
I squinted until I saw the bony eye sockets and snout protruding above the surface.
"They'll be out sunning on logs when it warms up later today," Harry added.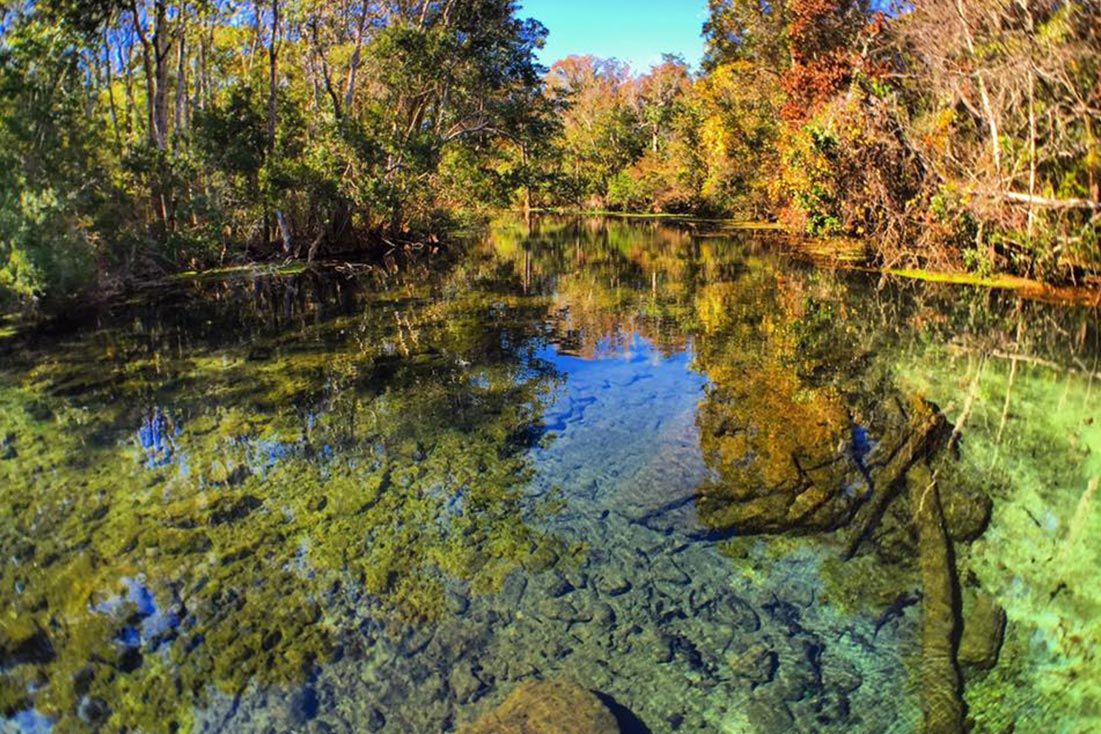 I first visited the Wacissa as a boy in the late 1960s and it hasn't changed much. While in high school, I took my visiting grandparents canoeing there and they raved about it for years. And, why not? Nothing in the Chicago area compares with these crystalline waters, moss-draped cypress trees and alligators.
Harry grew up in the Tallahassee area, too, fishing and boating. "I've been coming to the Wacissa as long as I can remember," he said. He spent seven years in Alaska before moving back to the area to start an outfitting business. "Tallahassee is such a wonderful hub for these beautiful destinations, and you can paddle year-round."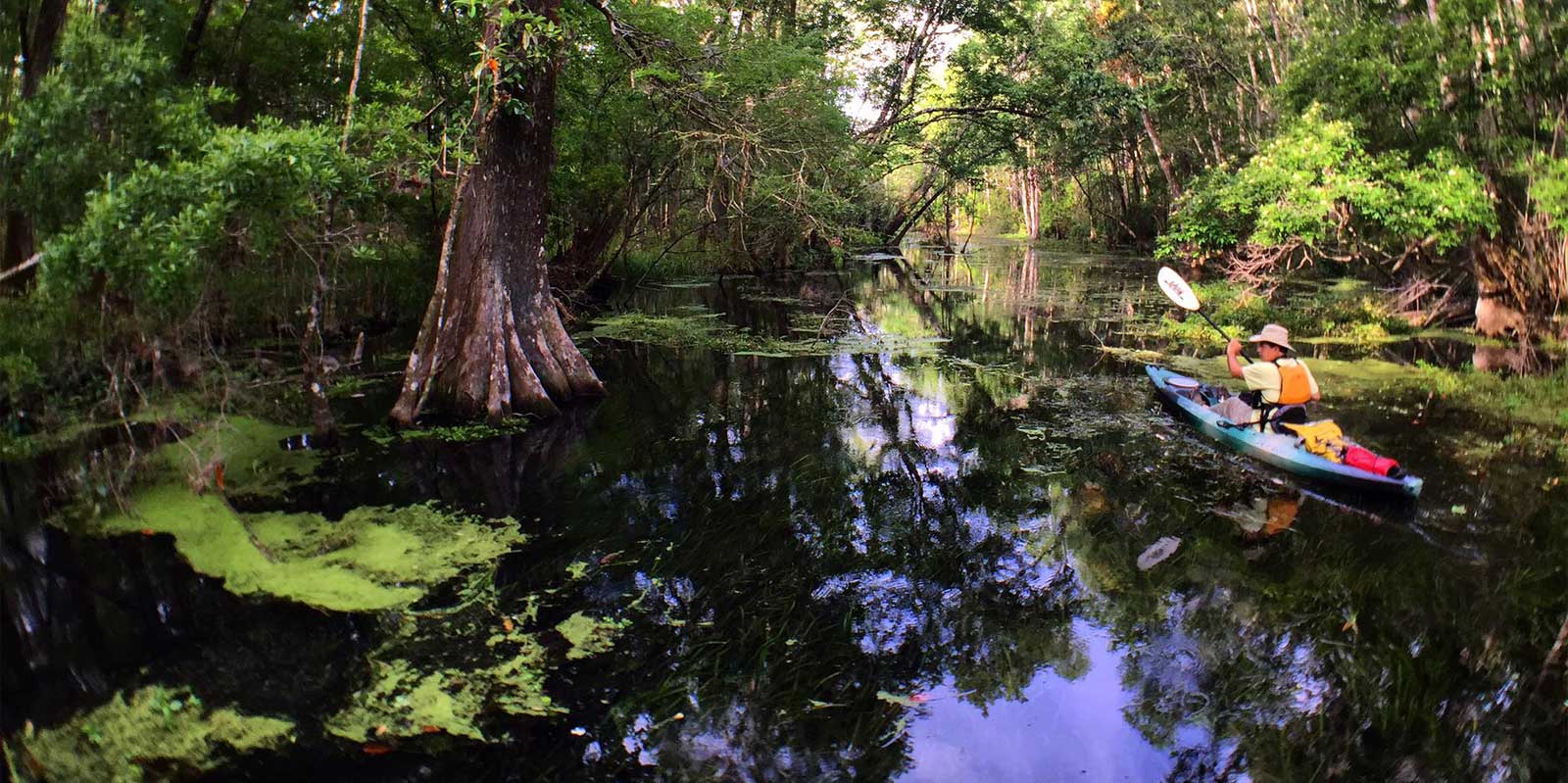 Seeking hidden springs
Harry and I paddled to side springs with names such as Big Blue, Little Blue, Cassidy and Buzzard Log. It hadn't rained in awhile, so the springs were strikingly clear.
At more than 40 feet deep and 50 yards across, Big Blue is the largest spring on the river. "I wonder what early Native Americans called these natural wonders," I said while gazing into the azure depths.
Harry nodded thoughtfully. "Imagine being the first person to have stumbled upon this spring thousands of years ago."
My favorite surprise of the day was Buzzard Log Springs, as it's nearly hidden from the main river about a quarter mile paddle up a shallow, canopied spring-run. While kayaking to it, we spotted movement ahead of us and soon came upon a family of river otters feeding in the shallows. Their sleek brown bodies moved effortlessly and they paused frequently, poking their heads up to look around. At our approach, they quickly dove under and disappeared.
In the bowl of Buzzard Log Springs, we encountered a giant cypress log. "I wonder how long that has been lying there," Harry said. We scanned the shore and did not see any sign of a stump, so we determined it had been preserved in the cool depths for centuries.
Before we paddled back to the river, Harry told me that the Wacissa gave him a sense of belonging, a feeling of peace. "You kind of feel the river," he said.
Gazing into the water and at the cypress sentinels that towered over the spring, I grasped what he meant. These trees have watched humans come and go for generations, and as long as we take care of this place, they will continue to for generations.